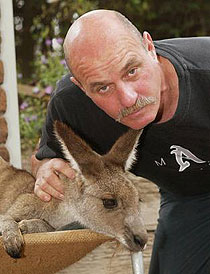 MELBOURNE, Australia - A kangaroo saved a farmer's life by alerting his family that he was lying unconscious in a field. The eastern gray kangaroo named Lulu was hailed a hero Monday for saving the Australian farmer by alerting the man's wife and leading her to where he lay trapped under a fallen tree branch.

Farmer Leonard Richards (shown in picture on the left with Lulu) was checking for storm damage on his property at Tanjil South, 150 km (93 miles) east of Melbourne, Sunday morning when he was hit on the head by a falling branch. He was knocked unconscious and could have died had he not been found so quickly, Rural Ambulance Victoria paramedic Eddie Wright said.

The kangaroo began barking to get the attention of the family until Richards' wife came to investigate. Lulu, then stood guard over Richards' unconscious body Sunday and "barked like a dog" to get help, the farmer's daughter said. "She was obviously trying to get our attention because she never acts like that," said Celeste Richards, 17.

"It went on for about 15 minutes, so we went outside to investigate and we saw Lulu standing upright with her chest puffed out over Dad's body. If it wasn't for her, my Dad could have died — Lulu is my hero," she added.

Mrs. Richards found her husband lying unconscious under a tree about 200 meters (650 feet) from the house, guarded by the gray kangaroo. "Dad was totally out of it and Lulu was sitting by him in the bush making this really unusual yapping noise until Mum got there," Richards' 19-year-old son Luke told Reuters.

Lulu was hand-reared by the Richards family, who rescued her from her mother's pouch and fed her on bottles after her mother was killed by a car a few years ago. Lulu was also blind in one eye and even though she was wild, the family had adopted her.

Richards was taken to hospital with suspected head injuries but allowed home Sunday night.

Animal welfare group the Royal Society for the Prevention of Cruelty to Animals (RSPCA) called for Lulu to be nominated for its annual national bravery award.

"This award is given to animals who do something for humans of an exceptional nature and Lulu certainly has done that," national president Hugh Wirth told Reuters.

"The kangaroo alerted them to where he was and went and sat down next to him and that's how they found him," he said. "The farmer's wife followed the kangaroo because he was acting out of character."